Note: Facility and Generator Users have permissions to Authorize Service Providers to a Generator Company. These permissions are at the Company level and apply to all Generator Sites. However, Service Providers will only have access to the Waste Streams or Manifests that they have created or been added to within the Generator Company to which they are authorized.
There are two ways to authorize a Service Provider to a Generator Company:
Assist the Service Provider
Accept a Service Provider's request
---
Assist the Service Provider
Ensure you have created the Service Provider Company and Service Provider User before completing these steps.

Go to Service Providers
Click on the Service Providers Icon.
Click Authorize a Service Provider
Select the Service Provider
Use the typeahead to select the Service Provider User you wish to Authorize. Once you have selected the user, click Authorize.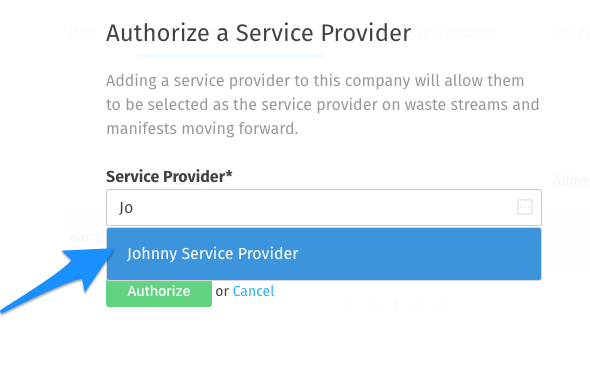 This user will now appear in the list of Authorized Service Providers.

---
Accept a Service Provider's Request
Service Providers may create new Generator companies to be approved or rejected by members at the Facility Site that they select. Read more about this workflow here: Requesting Access to a Generator Company (For Service Providers).
Navigate to the Request
Once the Service Provider has requested access to the company, Facility users at that Site will receive both an email notification and an in-app notification of the request. Click the link in either of these locations to be taken to the request.
Manage the Pending Request
Pending requests will be highlighted in blue. Hover over the three dots to select whether you will accept or reject the request.
Rejecting a Request
If you select Reject, you will be prompted to enter a reason for the rejection and the request will be finalized.
Accepting a Request
If you accept the request, you will be given the option to match the request to an existing company or create a new company. Click Accept Request to finalize. The Service Provider will now have access to create Generator Sites, Waste Streams, and Manifests.